It is a tailor-made service that is offered through the BUREAU DES CONGRES in order to personalize and assist you in the proper organization of your event.
You thus benefit froma single point of contact and expert :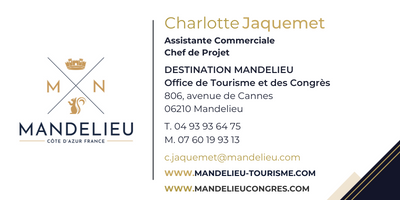 Here is the list of services offered by the Convention Bureau.
The reservation and monitoring of room quotas in the various hotels in Mandelieu-La Napoule chosen.
The creation of a web page in the colors of the event allowing delegates to book their accommodation directly at the best price.
The management of the various bus transfers between Nice airport, Cannes train station, etc. But also for outdoor evenings and activities / excursions.
The reservation of the desired hostess services.
Reservation and follow-up of evenings outdoors.
Booking and monitoring of any outdoor activities / excursions.
Additional paid services:
Management of congress registrations.
Reimbursement of delegates' travel expenses.
Establishment of attendance sheets.
Making badges.